Posted on April 24, 2008
Filed Under Events, Gay/Lesbian, Music, Women | Comments Off on Rocking Out At The Knitting Factory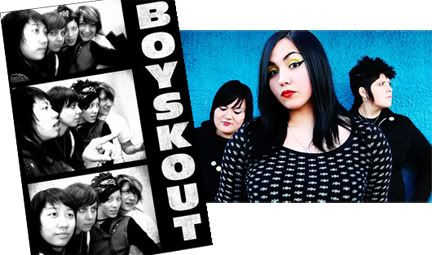 On a night when Gossip was playing at Webster Hall, two all-female bands stole away a piece of the fan base (heavy on the faux-hawk-sporting, i-D-reading rocker ladies) to New York's legendary Knitting Factory. Boyskout and Girl in a Coma played the Factory's Tap Bar on April 15, with the Isles opening.
Boyskout, hailing from Brooklyn via San Francisco, plays punk-inflected indie rock that has been compared to the early Cure, but the band's latest single, "You Act Strange," is danceable enough for pop. Boyskout was featured on the July 2007 cover of Curve, and JIVEMagazine.com quoted a fan, "Watching their live show is like getting laid." Is it? I didn't get laid, but maybe someone did. After an audience member screamed, "We wanna have your babies!" singer/guitarist Leslie Satterfield shrugged, smiled, and said, "All right." The band's energy built up on the hot, sweaty little stage. Synthy keyboards and unabashedly feminine vocals gave a fetishistic edge to Boyskout's dark, driving rock.
San Antonio-based Girl in a Coma has had a great year, opening for Morrissey and entering the Billboard Charts with their debut album, Both Before I'm Gone, which was also an iTunes feature. Girl in a Coma has a history at the Knitting Factory, where in 2006 the band impressed Joan Jett and was promptly signed to her label, Blackheart Records. The audience crowded up devotedly as singer/guitarist Nina Diaz's powerful voice alternately thundered and soothed. Bass from Jenn Alva and drums from Phanie Diaz (Nina's sister; the three bandmates are high-school friends) filled out the band's gritty, dreamy sound. The verdict: a good night for sweaty women and an even better night for rocking ones.
Girl in a Coma is currently touring the U.S. in support of the new album. For those of you in the New York area, Boyskout is playing Williamsburg's Luna Lounge on Friday, April 25.
posted by Nina Schloesser
Comments