Posted on June 23, 2008
Filed Under Advertising, Fashion, Gay/Lesbian, Women | 1 Comment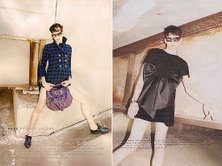 Posted by Nina Schloesser
Male model Cole Mohr wears a dress (and carries a handbag) in the Marc by Marc Jacobs fall 2008 ad campaign, shot by Juergen Teller. The Jacobs-Teller collaboration, which began in 1997, is known for having produced some of fashion's most memorable advertising. The inspiration for this season's ads may have come from Filipino blogger BryanBoy, whose personal wardrobe includes handbags and minidresses (and in whose honor Marc Jacobs christened a bag from his fall 2008 line "the BB"). BryanBoy jubilantly affirms on his blog, "I'm so gay I sweat glitter!", but the decision to showcase male femininity in the new Marc by Marc ads argues that its appeal is expected to far exceed the confines of the gay world. In fact, the ads, which will run for both the menswear and womenswear lines, are largely meant to sell the bow-fronted dress worn by Mohr, along with many others of its brand, to women.
The ads fit in perfectly with the Jacobs-Teller tradition of irreverent advertising that creates cool by appearing to scorn it. More importantly, in my opinion, these photographs are beautiful enough to sell anything. Take Jacobs's clothes, Teller's eye, and Mohr's scruffy angular beauty, and how can you go wrong? Though the ads are already making waves, they are hardly without precedent. Fashion has long recognized male femininity as a stylistic, sexual, and creative force, one that can be mined for art, for love, and for money. In a celebrated recent example, downtown personage Andre J. appeared alongside supermodel Carolyn Murphy on the November 2007 cover of Vogue Paris, in a blue Burberry trench, heels, and a beard. Andre J., known for his legs, is now offering catwalk-strutting lessons to women.
With the Village Voice announcing "the triumph of the lipsticks," and claiming that "glamorous" lesbians have conquered Manhattan, my question is this: when will female masculinity of the unabashed sort (as unabashed as the femininity of BryanBoy and Andre J.) be regarded as glamorous? Which is to say, quite frankly, when will a butch image be able to sell clothes, sell sex, sell itself?
I argue that the image of female masculinity is as subversive, as enthralling, as mysterious–in short, as powerful as the image of male femininity. Fashion has harnessed its power, flirting with female masculinity without ever quite embracing it. The legendary couturier Yves Saint Laurent famously put feminine women in pants. Photographers as powerful as Steven Meisel and Mario Testino have loved the faces of women with masculine or androgynous features, from Erin O'Connor and Hannelore Knuts to Omahyra Mota. When, then, will the beautiful "Jax," a butch photographed often by Del LaGrace Volcano, join, say, Tyson Ballou on the cover of L'Uomo Vogue? When will she, or another masculine woman like her, be photographed for a Tom Ford campaign in such a way that straight men everywhere will flock to the store to buy her suit?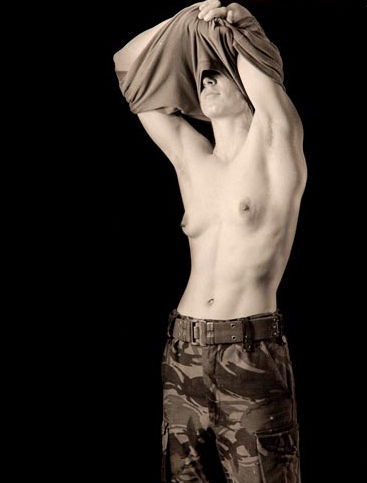 Cathy Horyn, fashion critic for the New York Times, has said that "the irony in fashion is that it loves change but it can't actually change anything. It can only reflect a change in the air. But what changes fashion?" The answer, I think, is ourselves. To put a butch on the cover of Vogue, let us prize and defend our conviction that the experience of gazing upon her is beautiful not just for us, but for real.
Comments