Posted on July 4, 2008
Filed Under International, Politics, Women | Comments Off on Welcome Home Ingrid!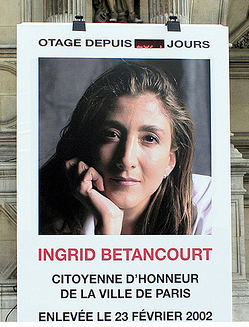 Posted by Nyna
We are so happy here in Paris to witness the return of Ingrid Betancourt, the Franco-Colombian politician, wife, and mother who had been held hostage by the FARC rebels for nearly seven years. I had just been standing in front of her photo hanging in front of the Hotel de Ville in Paris the night before she was released, hoping and praying for her safety. The next day we learned that she was free.
You haven't heard anything from me lately because I've been busy with my new book, which should be out in time for Pride next year. There were over 700,000 people in the Bastille for Pride in Paris this year, and we were certainly over a million in the streets of the Marais afterwards.
Paris is literally bursting with pride right now, and I am grateful to be here to witness it.
Oh, and Happy Independence over there!

Nyna is a screenwriter and film director. She lives in Paris and New York City.
Comments