Posted on July 30, 2008
Filed Under Fitness, Health, Women | Comments Off on One Hour A Day Can Help You Lose Weight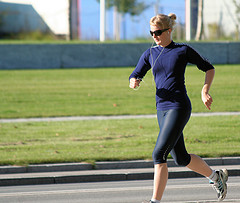 Losing weight and keeping it off sometimes seems impossible but in fact, a recent study found that it only takes one hour of exercise a day to maintain a steady weight loss and keep those unwanted extra pounds off.
According to a recent study, overweight women who wanted to lose weight needed to exercise for an hour a day, five days a week. The study, published in the Archives of Internal Medicine, was headed by John M. Jakicic, Ph.D., professor and chair of the Department of Health and Physical Activity at the University of Pittsburgh. The researchers found that women who exercised for an hour a day, five days a week along with a healthy diet managed a 10% weight loss over a two year span as compared with others who managed only 5%.
"It doesn't really matter which form of exercise you do, just pick one that burns calories, and it should be one that you enjoy, so you'll stick with it" says Dr. Jakicic. "If you can't do 275 minutes a week, do what you can do. Everyone needs to find ways to become more active. And if you can't do more exercise, then you may just have to be a little more diligent about what you are eating. Exercise is very important, but diet, or healthy eating behavior, still needs to be on your radar screen," he said.
Ok! I'm off to the gym. Be back in an hour!
Comments