Posted on October 28, 2008
Filed Under Gay/Lesbian, International, Religion, Women | Comments Off on Fatwa Bans Lesbianism and "Tomboys"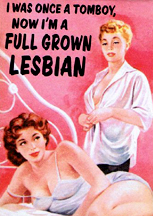 One of Malaysia's highest Islamic bodies has banned females from dressing or behaving like men and engaging in lesbian sex, saying it was forbidden by the religion.The National Fatwa Council late last week issued its ruling following a two-day meeting that discussed recent cases of young women apparently behaving like men and exhibiting homosexual tendencies, the state news agency Bernama reported.
Council chairman Abdul Shukor Husin told Bernama many young women admired the way men dress, behave and socialize, violating human nature and denying their femininity.
"It is unacceptable to see women who love the male lifestyle including dressing in the clothes men wear," Abdul Shukor was quoted as saying.
"(Masculine behavior) becomes clearer when they start to have sex with someone of the same gender, that is woman and woman," he said.
"In view of this, the National Fatwa Council which met today have decided and taken the stand that such acts are forbidden and banned," he said.
Comments