Posted on November 10, 2008
Filed Under Arts/Culture, Entertainment, Music, Women | Comments Off on Miriam Makeba Singer/Activist Dies After Performance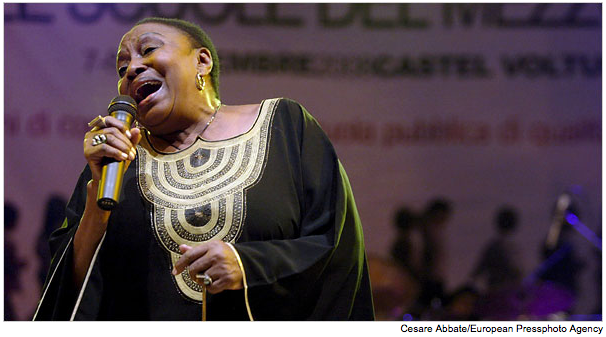 Miriam Makeba, a South African singer whose voice stirred hopes of freedom among millions in her own country though her music was formally banned by the apartheid authorities she struggled against, died overnight after performing at a concert in Italy on Sunday. She was 76.
Ms. Makeba collapsed as she was leaving the stage, the South African authorities said. She had been singing at a concert in support of Roberto Saviano, an author who has received death threats after writing about organized crime.
Although Ms. Makeba had been weakened by osteoarthritis, her death stunned many in South Africa, where she stood as an enduring emblem of the travails of black people under the apartheid system of racial segregation that ended with the release from prison of Nelson Mandela in 1990 and the country's first fully democratic elections in 1994. [via NYT]
Comments