Posted on December 2, 2008
Filed Under International, News, Travel | Comments Off on Venice Floods Highest in 20 Years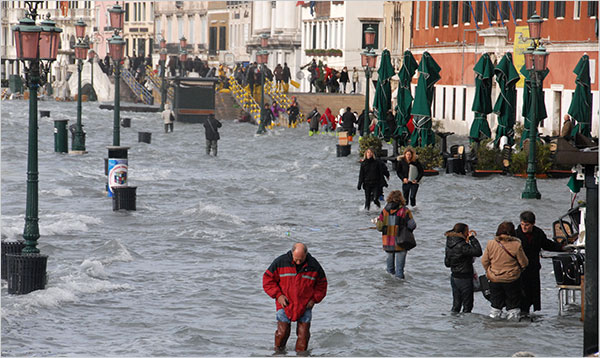 Ah, Venice. One of my favorite cities in the world. Beautiful and mysterious and now flooding!
According to the NYT, residents and tourists waded through knee-deep water yesterday as they navigated the city's narrow streets and alleys, and its historic St. Mark's Square was inundated.
One of the highest tides in its history brought Venice to a virtual halt, rekindling a debate over a plan to build moveable flood barriers in an effort to save the city from high tides.
For three decades, a single idea on how to safeguard Venice and its lagoon from sinking beneath the sea has held sway: a wall of hinged barriers at each of the three entrances to the lagoon that would rise at the flick of a switch to collectively block extreme high tides from entering the lagoon. Sounds simple, right? Well, it is, after a fashion. Below, watch an animated movie and see how the mobile gates would work.
Comments