Posted on August 25, 2009
Filed Under Women | Comments Off on Track Champion and Gender Controversy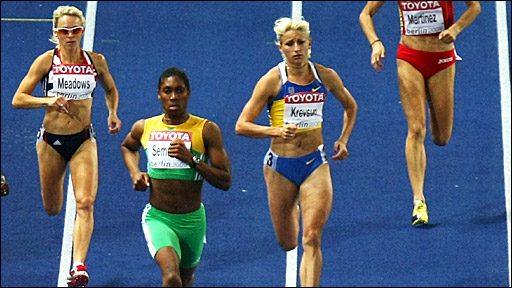 New world 800m champion Caster Semenya has shrugged off the gender controversy shrouding her victory at the World Championships in Berlin. The 18-year-old South African has been asked to take a gender test by athletics' governing body the IAAF.
When a reporter asked Semenya about the rumours surrounding her gender following her victory on Wednesday, she said: "I have no idea about that.
"I don't know who said that, I don't give a damn about it."
Spokesman Nick Davies said the IAAF had first asked the teenager to undergo a gender test after she posted a world leading time of 1 minute 56.72 seconds at the African junior championships in Bambous, Mauritius, at the end of July.
Davies said doctors in South Africa had already begun testing Semenya but because of the complexity of the process, it would be some time before the results were available. Until then, she was clear to run.
Controversy about the athlete then reached a head when she won Wednesday's final in a time of 1:55.45, the best time in the world this year.
Semenya's mother, Dorcus, told the BBC: "Caster is a girl, her birth certificate says she is a girl. This my girl, I give birth to that girl from my womb and I am not doubting.
"I know everything with Caster, no questions."
John Wass, professor of endocrinology at Oxford University explained the basics of the gender verification test.
"There are three aspects to determine whether a person is a man or woman," he told BBC Radio 5 live.
"The first thing is your chromosomal sex, you can scrape the inside of the mouth and get a few cells and that usually takes a fortnight or so – XX is a woman and XY is a man.
"The second is what you actually look like… you have a look to see what there is in terms of external genitalia.
"And the last aspect is what you feel you are.
"I think it is likely that the tests will be conclusive."
The official IAAF policy document on gender verification states that one of the steps required for handling such cases is that "the athlete is referred to the investigating authority in confidence for further investigation and advice".
The IAAF announced it had asked Semenya to take the gender test before she competed in Wednesday's 800m final in Berlin.
Former Olympic heptathlon champion Denise Lewis described the treatment of the South Africa as "absolutely dreadful", adding: "It's awful she had to compete with this hanging over her head.
"It should have been sorted out much, much sooner than this."
Four-time Olympic gold medallist Michael Johnson agreed, saying: "The consensus is that it is highly unfair and embarrassing to the athlete."
But the American added: "At the same time we've had so many athletes who have doped over the last decade in this sport, so we know people will cheat for success.
"I think what the IAAF is doing is the right thing in terms of dealing with the situation, but the way they're dealing with it is all wrong."
Great Britain's Jenny Meadows could have her bronze medal elevated to silver if Semenya fails her test.
She said: "There's nothing we can do as athletes and it's a difficult situation for Caster herself to be in but we've got to leave to to the discretion of the IAAF."
Treatment of Semenya has caused anger in her native South Africa.
The country's ruling party, the ANC, called on South Africans to rally around "our golden girl".
"Caster is not the only woman athlete with a masculine build and the International Association of Athletics Federation should know better," an ANC statement read.
Gideon Sam, president of South Africa's Olympic governing body, said: "We condemn the way she was linked with such media speculation and allegation, especially on a day she ran in the final of her first major world event.
"We have every faith in Athletics South Africa and the team they selected to attend the World Championships in Berlin."
Comments